It's Christmas time at Galaxy Macau
(HONG KONG & MACAU, November 14, 2018) – This holiday season, you'd better watch out – for all the festivities at Galaxy Macau™! The number one destination resort in town is rolling out the red and green carpet with "Naughty-or-Nice"-themed decorations, promotions and entertainment that are sure to put Santa-sized smiles on the faces of the whole family. No matter what side of the list they're on, Galaxy Macau has something in store for everyone this Christmas!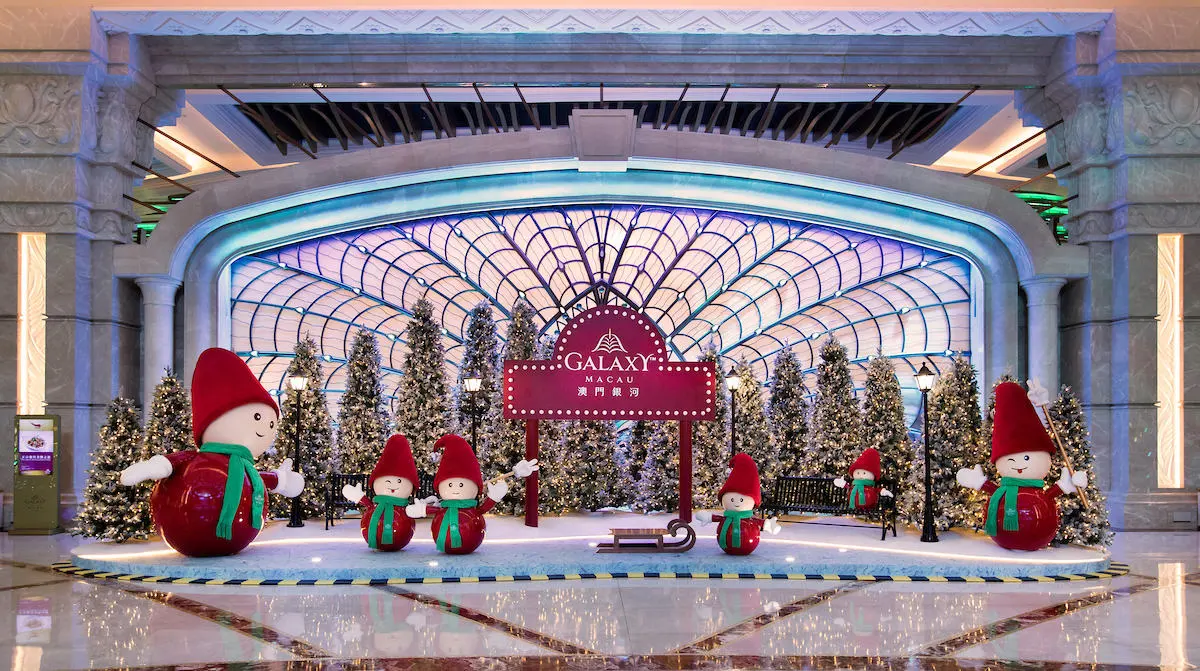 A Luxury Brand Destination
Galaxy Promenade at Galaxy Macau is proud to bring Dolce&Gabbana Pop Up to town with the iconic Italian fashion brand's colorful Christmas characters and festive decorations. Inspired by traditional Sicilian parades, the exclusive-to-Asia pop-up store features the brand's latest collections and inventive installations. Shoppers will be the first to experience the pop-up at the Pearl Lobby of Galaxy Promenade from November 16, 2018 through January 6, 2019.
Macau's most sophisticated shopping destination Galaxy Promenade will be The Dolce&Gabbana Pop Up's only stop in Asia, where it will light up the Pearl Lobby with dazzling luminaria (festive lights) and ornate, hand-painted Sicilian carreto (carts). The craft of making carreto has been handed down from generation to generation and is often a focal point of Dolce&Gabbana's aesthetics. At Galaxy Promenade, they will carry the latest men's, women's and children's prêt-à-porter and accessories collections, as well as an exclusive, Chinese-inspired collection featuring the beloved and playful panda.
From December 13, 2018 to January 6, 2019, customers will also receive attractive gift vouchers for spending at Galaxy Promenade – simply spend MOP 30,000 to receive MOP 1,000 in rewards, MOP 60,000 to receive MOP 2,000, and MOP 100,000 for MOP 3,000. Revel in a designer yuletide atmosphere found only at Galaxy Macau!
The Season for Christmas Cuisine
With eight restaurants and bars hosting special promotions, Galaxy Macau is a winter wonderland for connoisseurs of fine food and drink. For an intimate dinner, sumptuous feast or festive party with delicious cocktails, this is the place to enjoy gourmet treats that are both naughty and nice!
Start your experience with an expertly crafted cocktail at The Macallan Bar & Lounge, Macau's famed whisky bar, where a talented team of mixologists will be whipping up a series of themed cocktails. To get yourself in the Christmas spirit, try the brandy-based cocktail "Grinch Me Not" or the highlight of the menu, "Santa's Booster", a rum-based concoction by Ron Alvin A. Aransay, the Havana Club Cocktail Grand Prix 2018 Grand Champion for Hong Kong and Macau. Drinks are just MOP88 each, and they're available from December 1 to 31.  
For those looking for a memorable Michelin experience, Executive Chef Antimo Merone of  8½ Otto e Mezzo BOMBANA at Galaxy Macau has created a unique journey with premium seafood, Italian handmade pastas and the finest meats. The star of the show is the Alba White Truffle, the rarest and most luxurious of Italian ingredients and a signature of 8½ Otto e Mezzo BOMBANA, shaved fresh over homemade pasta, so that all the precious aroma can be released. It also happens that once per year, the season of White and Black truffle overlap for a short while. Chef Merone presents this unique opportunity in his New Year's Menu with the Classic Agnolotti, topped with Melanosporum Black Truffle, followed by the Homemade Tagliolini, the most classic combination with 36-month aged Parmigiano Reggiano and Alba White Truffle. The festive set menu is priced from MOP888 per person.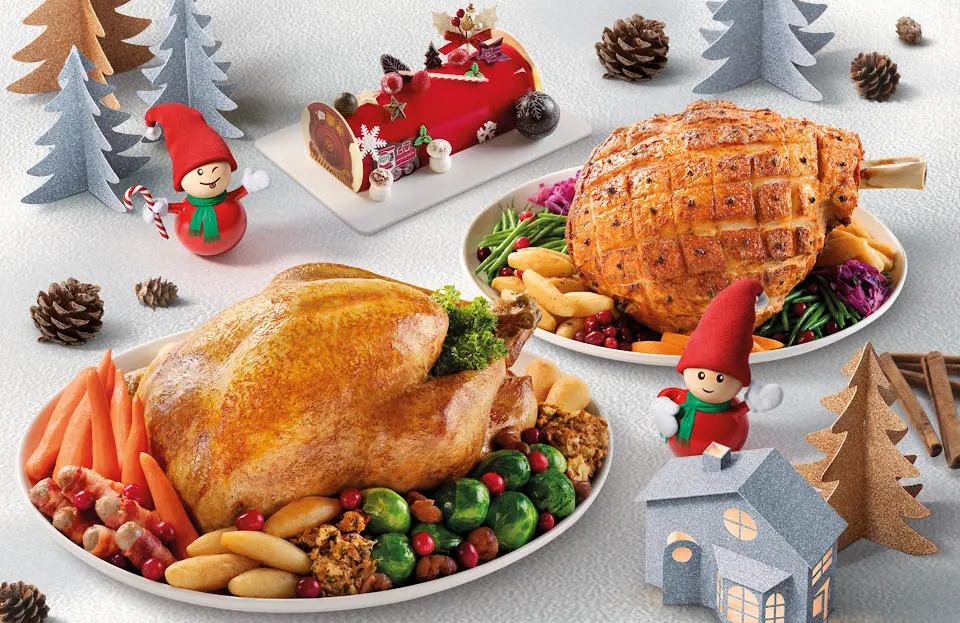 Buffet lovers need look no further than Festiva, which is showcasing Christmas roasts including turkey with all the trimmings as well as sweet and savory glazed, smoked leg of ham, in addition to popular items like sashimi, oysters, crispy barbequed pork and more. Also, be sure not to miss Festiva's spectacular selection of sweet treats! Lunch is MOP368 per person, while dinner is MOP568. The Christmas buffet is available from December 22, 2018 through January 1, 2019.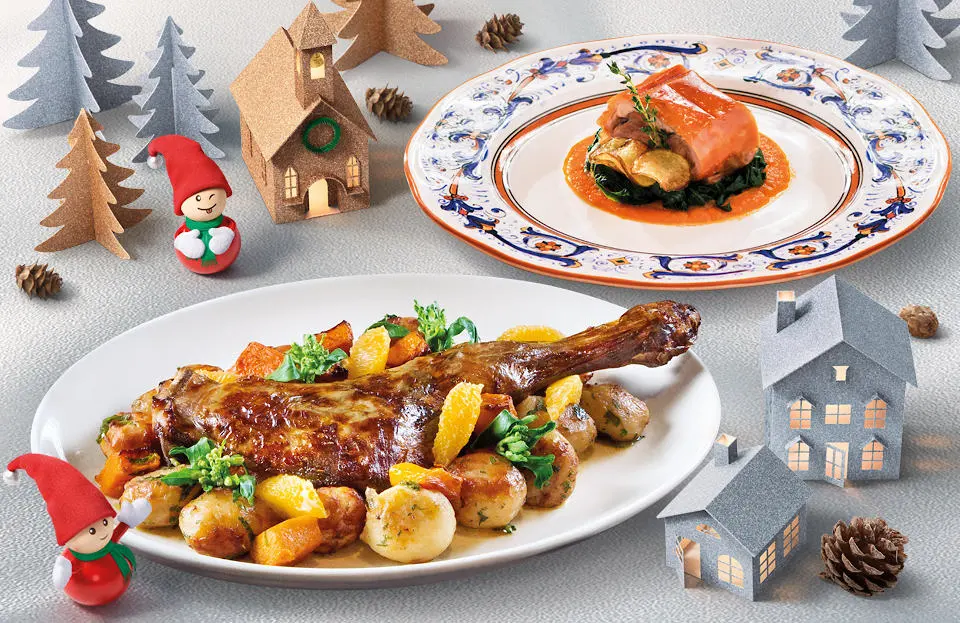 Over at Gosto, the culinary team is showing off the traditional flavors of Portugal with signature dishes including roasted bacalhau, or salted cod, and oven-baked goat with black sausage rice. Diners can enjoy these and other heartwarming delights starting price at MOP55, from December 24, 2018 through January 1, 2019.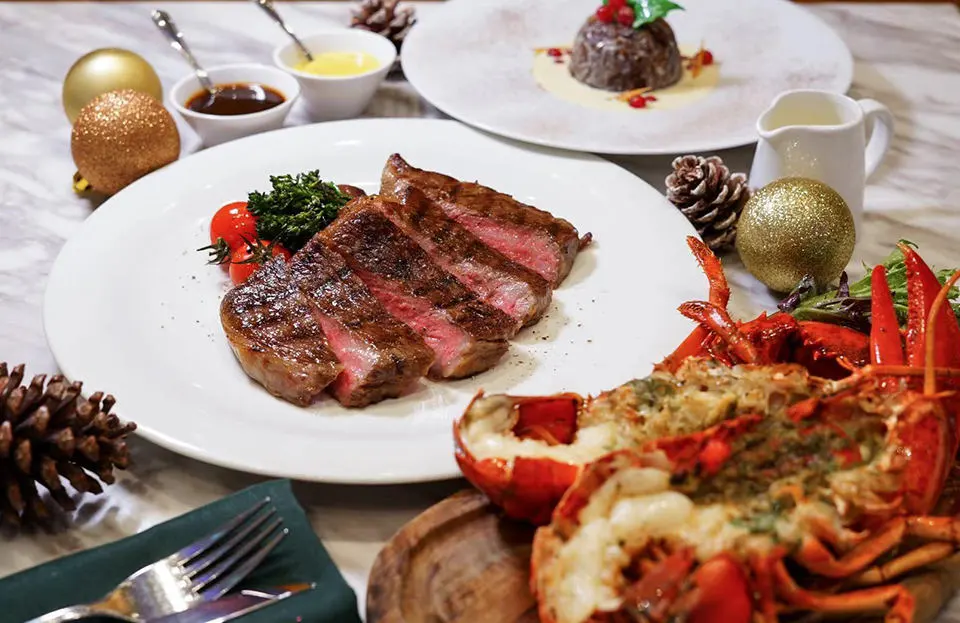 For discerning diners who insist on high-quality, sustainably sourced ingredients, The Apron Oyster Bar & Grill is offering a surf-and-turf experience fit for Santa himself. Order a succulent grilled spiny lobster from the US pair with The Apron's house special, dry-aged premium beef, for an unbeatable price of MOP388. It's available from December 1, 2018 through January 1, 2019. 
Celebrate this holiday season in an Italian way at Terrazza Italian Restaurant, where Executive Chef Andrea Fioravanti has devised Christmas and New Year's menus bringing exquisite Italian cuisine. The menu is priced at MOP788 per person (24 – 25 December) and MOP888 per person on New Year's Eve. 
If you're a fan of French culture, you may like to add a little "oo-lah-lah" to your Christmas celebrations, and Café de Paris Monte-Carlo is more than happy to oblige. Different menus will be served for the holidays offering French classics. The Christmas special dishes and set menu are on offer 23-24 December 2018 (dinner) and 25 December 2018 (lunch), while the New Year special dishes and set menu are available December 30 to 31 2018 (dinner) and January 1, 2019 (lunch). The set menus are priced at just MOP598 per person.
And at Broadway Macau, Dragon Portuguese Restaurant is delivering a sleigh-full of authentic fare with two indulgent Christmas menus for groups both large and small. From 15-26 December, celebrate with a selection of dishes including Portuguese-style roasted whole grouper with white wine, roasted turkey roulade with chestnut stuffing, Portuguese-style stewed ox tongue with red wine and much more. Menus even include a whole Boston lobster with chili sauce and a bottle of Mumm Champagne. The menu for groups of four is MOP1,288, while for eight is MOP2,088.
The Sights and Sounds of the Season
This year, Galaxy Macau is proud to host a vocal performance featuring lively renditions of all your favorite Christmastime hits. Don't miss the Christmas Choir Show, where from 21-26 December, the Ponte Singers, dressed in full elven regalia, will sing traditional carols amid all the decorations at East Square. The Ponte Singers have sung at the lighting ceremony for the giant Christmas tree at Statue Square in Hong Kong, among many other high-profile events, and their beautiful choral performance is sure to add a note of elegance to a fabulous holiday celebration at Galaxy Macau.
And no Christmas would be complete without a souvenir photo of you, your family and friends enjoying all the seasonal cheers at Galaxy Macau. Be sure to stop by East Square and visit the tallest Christmas tree in town and the Christmas Elf House photo booth, where guests can create an elf-themed e-card. It's a great way to commemorate the occasion for all your loved ones!
All this and more is waiting for you at the home of Christmas cheer, Galaxy Macau! Book a table at your favorite restaurant, bring the family and get ready for a festive experience with memories to last a lifetime.