BE@RBRICK MACAU 2020 RETURNS TO GALAXY MACAU
(Macau—July 16 2020) Galaxy Promenade at Galaxy Macau, the ultimate luxury shopping and lifestyle destination crafted by Galaxy Macau™ offering "Be The First" experience, is launching the return of BE@RBRICK MACAU 2020 pop-up installation presented by the local fashion and lifestyle multi-brand store WF Fashion from August 13 to September 13, 2020 at the Jade Lobby in Galaxy Macau. This year, the exclusive pop-up will be showcasing 8 limited edition BE@RBRICK co-branded originals. 
Following the resounding success of BE@RBRICK MACAU 2019 exhibition, Medicom Toy and WF Fashion is joining forces once again to roll out 8 all-new BE@RBRICK co-branded designs this year, including: Faith Connexion, MM6 Maison Margiela, Moschino, Neil Barrett, Palm Angels, Philipp Plein, UM Junior and the second Macau exclusive edition from the widely popular WF Fashion x MY FIRST BE@RBRICK B@BY. Loyal fans of BE@RBRICK can register online from July 29-31 for pre-registrations and the draw results will be announced on August 4. A series of periphery merchandise will also be exclusively available at BE@RBRICK MACAU 2020 pop-up held in Galaxy Promenade.
Besides, Heron Preston, the premium high street fashion brand introduced by Forward Fashion Holdings (the parent company of WF Fashion), join hands with Palm Angel to make their debut at Galaxy Promenade by launching their first-in-Macau stores. Apart from bringing the 2020 Autumn Winter collection, Palm Angels also roll out the Macau special edition exclusively at its store in Galaxy Macau. The addition of these two sought-after fashion brands further enhance Galaxy Promenade' reputation as a must-visit landmark for premium high street fashionistas. 
Ms. Hazel Wong, Senior Vice President of Retail for Galaxy Macau says, "We are greatly honored to collaborate with WF Fashion again to bring BE@RBRICK MACAU 2020 to Galaxy Promenade. The two consecutive years of partnership is another testament to Galaxy Promenade' position as an ultimate shopping destination for first-in-Macau experiences. With the commitment to offering each and every guest the luxuriant and novel shopping experience, we are confident that the 8 limited edition BE@RBRICK co-branded originals unveiled at this launch will be a 'FIRST to SEE' for the fans of the iconic figurine." 
Mr. Patrick Fan, Chairman of Forward Fashion Holdings says, "We are proud to work with the renowned international brands to bring the most dynamic fashion elements to Macau another again. We continue to expand Forward Fashion' consistent dedication in Macau, and showing our confidence to the future market."
Featuring more than 200 international fashion labels housed in 10,000 square meters of retail paradise, Galaxy Promenade stands for the "FIRST" in accessing latest fashion and shopping scenes in Macau – the "FIRST to SEE" limited edition first-in-Macau exclusive products, the "FIRST to HEAR" about latest style news and runway trends, and the "FIRST to EXPERIENCE" time-limited pop-up stores and exclusive events in collaboration with the most sought-after designer brands. Offering shoppers one of a kind promotions and distinctive experiences like no other. This summer, Galaxy Promenade is fashionista's ultimate retail and leisure destination that must not be missed!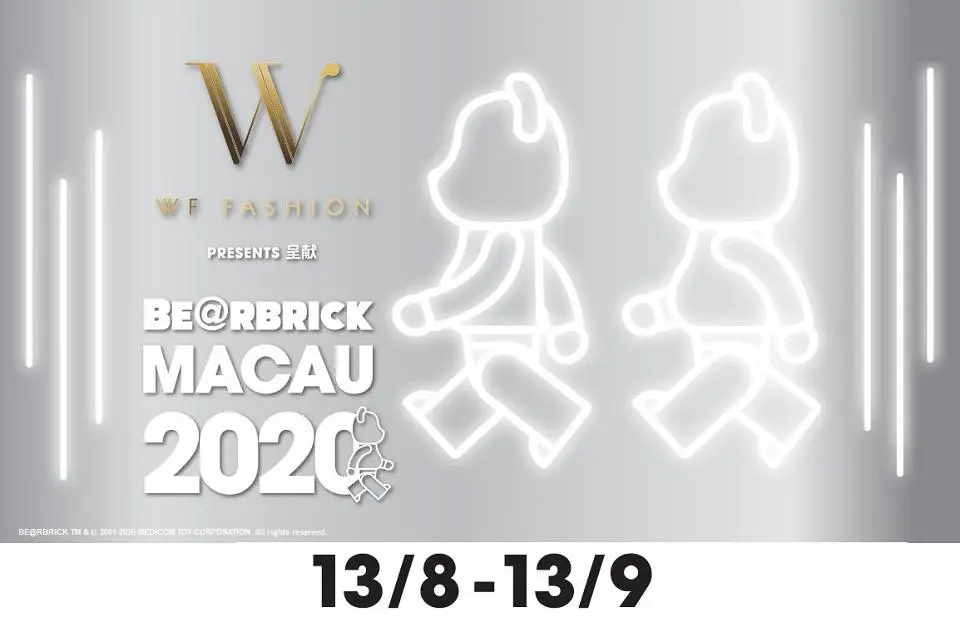 Pop-up period: August 13 to September 13, 2020
(During August 13 – 23, pop-up will be limited to pick up for reserved merchandise by eligible buyers while periphery merchandise will be available for purchase by public)
Operation venue: Jade Lobby at Galaxy Macau
Online registration: From 10:00 on July 29, 2020 to 23:59 on July 31, 2020
Draw date: August 4, 2020
Online platform: https://shop.wfholdings.com/
FaithConnexion

The philosophy behind the illusion was to convey the essence of Faith Connexion that is unrestrained, unconventional and strong connection with cultural movement - street art and music. The design has integrated the abstract expressionism, inspired by the most influential post war art movement. It is also an adherent of a real punk culture which was cultivated by the great duo - Malcolm McLaren, utilizing the artistic brush-stroke manner of Willem de Kooning and colors of dirty red, blue, black which represent the origin of the brand, that was rooted initially in Paris, France.

100% & 400% for MOP$ 1,400

MM6 Maison Margiela

MM6, Maison Margiela contemporary line, has reinterpret the famous BE@RBRICK with an unconventional approach. Inspired by Margiela's oversized "souvenir" glittering snow globe, the BE@RBRICK figure is customized with MM6 distinctive transparent effect fabric and silver color. This limited edition including a MM6 zoomed artwork in the front middle is an unexpected collector piece for the fans of the brand.

100% & 400 for MOP$ 1,400
1000% for MOP$ 4,500

Moschino

Moschino's signature Teddy Bear is transformed into a limited-edition BE@RBRICK for the very first time. 
As re-imagined by creative director Jeremy Scott, the Moschino BE@RBRICK Teddy wears the iconic "This Is Not a Moschino Toy" t-shirt as well as the playful graphic cartoon smile and will be available in limited quantities only as a collector's item.

100% & 400 for MOP$ 1,400
1000% for MOP$ 4,500

Neil Barrett 

Simplicity in its purest form. The low-key flair of Neil Barrett designs has made this brand a staple in the personal wardrobes of many top celebrities. Always seeking to perfect the tailored cut and silhouette, Neil rarely mingles with toy designers. In 2019, his very first collaboration with BE@RBRICK stirred up a storm and was sold out in the blink of an eye. The exclusive collectible, much loved by Neil himself, was a matte black interpretation with white thunder pattern, distinctive of the Neil Barrett brand. This year, Neil reinterprets his resounding success with an all matte white BE@RBRICK striped in black thunder. Collect both to complete the set!

100% & 400% for MOP1,700
1000% for MOP5,000

Palm Angels

Fusing its classic logo and signature flame motif, Palm Angels applies its iconic touches with one of the most iconic collectibles of this generation, the BE@RBRICK.
The Palm Angels BE@RBRICK will be exclusively available at the Galaxy Macau.

100% & 400% for MOP1,400
1000% for MOP4,500

Philipp Plein

Rock 'n roll for life – that is the pursuit of Philipp Plein. Forward and hinting of decadence, the burning passion is decked out in a colorful rendition of Philip Plein BE@RBRICK co-brand original.

100% & 400% for MOP1,400
1000% for MOP4,500

UM Junior

UM Junior BE@RBRICK offers an insight to the wits of a child through playful graffiti. With a bright impish yellow offset by cartoony impressions and a handful of colorful eggs in plain view, this original design fully expresses the unbridled imagination of every kid and creatively presents the universe through their eyes. Just as the UM Junior retail store of curated kids' collections from world-renowned luxury brands, the UM Junior BE@RBRICK acts as an incubator for those young at heart to keep their dreams alive and live heartily as kids do. 

100% & 400% for MOP1,700
1000% for MOP5,000

WF Fashion 

WF Fashion continues to spearhead BE@RBRICK MACAU 2020 this year with the second exclusive Macau limited edition MY FIRST BE@RBRICK B@BY again imprinted with "Macau" in the bottom, in a show of commitment to the bond between BE@RBRICK and Macau.

100% & 400% for MOP$ 1,700
1000% for MOP$ 5,000