Galaxy Macau Welcomes World's First BE@RBRICK MACAU 2019 Exhibition
(Macau, 26 June 2019) – The Promenade Shops at Galaxy Macau™, the ultimate luxury shopping and lifestyle destination, brings you world's first BE@RBRICK MACAU 2019 exhibition. Presented by renowned fashion icon BE@RBRICK and WF Fashion, a fashion and lifestyle multi-brand store, BE@RBRICK MACAU 2019 will last from 6 July to 15 September, 2019.
Since its inception in 2001, BE@RBRICK has risen to global popularity and has forged partnerships with some of the world's most prestigious artists and brands. This year's fashion art exhibition at Galaxy Macau will see participation from WF Fashion and seven leading international fashion brands - La Maison Du Chocolat, MARNI, Neil Barrett, Pinel et Pinel, Roberto Cavalli, Sergio Rossi, and VITAL MATERIAL. Each brand will create art installations featuring 2.1-meter-high 3000% BE@RBRICK that will be displayed in all corners of The Promenade Shops, creating unique photo moments for visitors.  Besides the exhibition, limited edition BE@RBRICK merchandise will also be exclusively available at the pop-up.
Throughout the exhibition period, 100%, 400% and 1000%-sized BE@RBRICK will be available for sale. In addition, the all-time hot collectible item MY_FIRST BE@RBRICK B@BY collection will feature an exclusive "Macau"-imprinted crossover edition from WF Fashion. This special collection will be available for sale. Another standout item will be the BE@RBRICK_AROMA_DIFFUSER from Japanese organic perfume brand VITAL MATERIAL. It will be firstly launched in a chrome gold version specially created for this exhibition.
Ms. Hazel Wong, Senior Vice President of Retail for Galaxy Macau says, "We are thrilled to collaborate with BE@RBRICK and WF Fashion to bring to our customers the world's first BE@RBRICK Macau 2019 pop-up together with brand new limited edition BE@RBRICK crossover designs at The Promenade Shops. This partnership is another testimony to Galaxy Macau's commitment to present itself as the shopping destination which always stands for the "FIRST"— the "FIRST to SEE" exclusive products, the "FIRST to HEAR" about the latest trends and the "FIRST to EXPERIENCE" the most exciting attractions. This exhibition is also a good example to demonstrate the core principles of The Promenade Shops. Shoppers who are after a full unique experience includes world-luxury brand pop-ups, exclusive merchandise and exclusive brand access, The Promenade Shops is truly Asia's leading shopping destination designed for you!"
"We have been in the fashion retail business working with the world's top international brands for over 10 years, and have never seen art and fashion so highly connected like this before. We are very honored to partner with Galaxy Macau and BE@RBRICK to bring this ultimate fashion and art experience to Macau. Through the opening of the first-in-Macau fashion and lifestyle store WF Fashion and this collaboration with Galaxy Macau, we hope we can join hands to take the retail landscape in Macau to a new level and therefore diversify the tourism industry in Macau." says Mr. Patrick Fan Wing Ting, President of World First Holdings. 
In addition to the on-site sales, BE@RBRICK fans will be able to get a chance to receive a BE@RBRICK at Galaxy Macau over the event period. Whether you are a fashionista or BE@RBRICK fan, this world's first BE@RBRICK MACAU 2019 is definitely the summer highlight that you don't want to miss out. For more details, please refer to the event website and related publicity materials.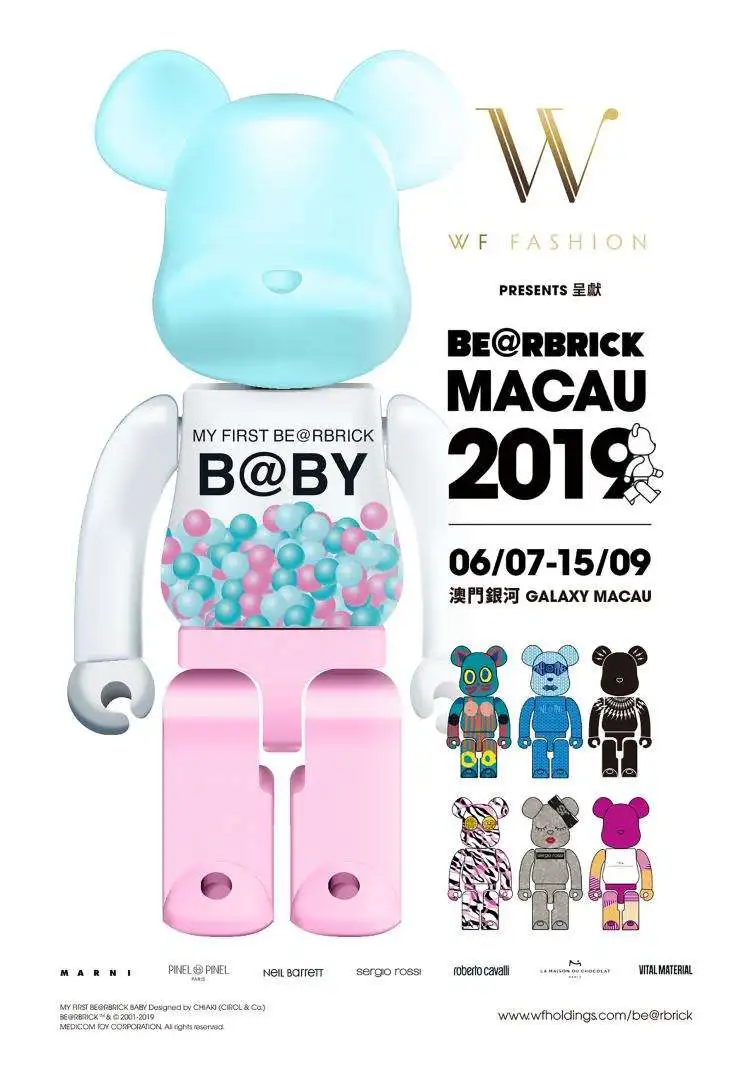 Event name:               BE@RBRICK MACAU 2019
Event period:            6 July to 15 September, 2019
Event place:             Pearl Lobby, The Promenade Shops, Galaxy Macau
Event details:            http://www.wfholdings.com/be@rbrick
About Galaxy Macau and Broadway Macau
Galaxy Macau(TM) is an integrated resort situated in the world-class tourist destination of Macau. Spanning over 1.1 million square meters, Galaxy Macau offers visitors from all over the world the ultimate experience with luxury hotel, dining, entertainment, shopping and leisure all in one spectacular location. Galaxy Macau boasts a portfolio of world-class hotels – The Ritz-Carlton, Macau, Banyan Tree Macau, JW Marriott Hotel Macau, Hotel Okura Macau; as well as Galaxy Hotel(TM) reputed for its signature "World Class, Asian Heart" hospitality and Broadway Hotel which stands out with its personalized service. These 6 hotels offer close to 4,000 luxurious rooms, suites and villas – a truly comprehensive collection to impress the most discerning guests. The Grand Resort Deck is the signature attraction of Galaxy Macau. Sprawling across 75,000 square meters, it is the largest waterpark in Macau complete with first-in-class facilities – 150-meter pristine white sand beaches, the world's longest Skytop Adventure Rapids at 575 meters and the largest Skytop Wave Pool that creates waves up to 1.5 meters high. There are also waterslides, geysers, waterfalls and a kids' aquatic zone to guarantee a most exciting adventure for holiday-makers of all ages. For a more relaxing time, guests can unwind in the picturesque Asia-themed tropical gardens, or enjoy al fresco dining at the poolside restaurants and lounges. There are well over 120 dining options at Galaxy Macau, some of which have even garnered such prestigious accolades as the Michelin Stars. Not only can diners explore the finest of 18 Chinese provincial cuisines and 13 international cuisines, there are also special promotions to showcase exceptional culinary talent and outstanding ingredients from around the world. Amazing culinary discoveries await our guests at every turn in this ultimate dining destination. The Promenade Shops at Galaxy Macau is an award-winning shopping destination spread over 100,000 square meters. Luxury flagship stores, designer boutiques and high-street labels contribute to over 200 world-renowned brands. With First-In-Macau labels and collections, exclusive pop-up stores and brand events, The Promenade Shops is the destination of choice for the style community. Visitors are invited to an ultimate movie experience at UA Galaxy Cinemas, Macau's largest 3D Cineplex. Featuring state-of-the-art 4K laser projection, movie-goers can now enjoy the latest blockbusters in stunning resolution. Just a link bridge away from Galaxy Macau is Broadway Macau(TM), best known for its vibrant dining and entertainment district Broadway Food Street. The bustling street is flanked by restaurants and stalls serving authentic Asian flavors and Macau favorites, with street performances to offer an up-close entertainment experience. Broadway Theatre is another attraction at Broadway Macau. With around 2,500 seats, the live performance venue plays host to world-class entertainers and a diverse array of cultural events. Since its opening, Galaxy Macau has been building its success on the unique "Asian Heart" service philosophy, providing guests with attentive and luxurious service. We would like to invite everyone from around the world to visit Galaxy Macau and embark on an ultimate experience with luxury hotels, dining, entertainment, shopping and leisure all in one integrated resort. For more details, please visit www.galaxymacau.com and www.broadwaymacau.com.mo.
About World First Holdings Limited
World First Holdings Limited and its affiliates is a renowned fashion retail company that owns the franchise rights of over 30 top international brands, with an unrivaled distribution network that includes over 250 directly operating stores and a talent force of over 1500 people throughout Mainland China, Macau, Hong Kong Taiwan. With more than 10-year experience in the fashion industry, World First Holdings has developed a proven track record with its strong management leadership, the quality of the brands and stores, and the rapid business expansion.
Appendix
WF Fashion as the host of BE@RBRICK MACAU 2019 has collaborated with MY_FIRST BE@RBRICK B@BY. The color is meant to appeal to youth culture and represents joy over the entire project. The hot collectible collection will feature an exclusive "Macau"-imprinted crossover edition.

Pinel Et Pinel is the youngest super luxury brand from Paris. As a big kid at heart and an art lover, Fred Pinel could not help but leap into this comically artistic universe.

Like a Superhero, the Pinel Et Pinel BE@RBRICK is dressed with the brand's monogram-coated canvas. He is also wearing a mask and wings to travel … from Paris to Macau!

Named : Le Freddy Teddy

Sergio Rossi is a luxury Italian footwear brand. The distinctive Icona bow is the inspiration of the brand's SR Icona collection. By adding red lips and long eyelashes, it emphasizes femininity and adds a touch of fun to the look. Featuring a maxi logo on the chest the project is deeply rooted to the Sergio Rossi world. 

La Maison Du Chocolat is a luxury chocolate brand from Paris. Find ultra mini chocolate and macaron dummies inside the BE@RBRICK tummy!

Neil Barrett BE@RBRICK embraces the brand's symbolic thunder pattern. The all matte black BE@RBRICK body keeps its distinctive British DNA with a modern interpretation.

MARNI BE@RBRICK provides a new interpretation of the brand's sophisticated fashion style on this toy collaboration. The complexity of the color mix is a unique treat. 

Roberto Cavalli makes a special design for BE@RBRICK with the wavy black and pink curves playing up the brand's usual twist.

VITAL MATERIAL offers a brand-new chrome gold version BE@RBRICK_AROMA_DIFFUSER for this event. All products come with a special fragrance created by the creative master of VITAL MATERIAL.